Joined

Aug 19, 2018
Messages

6,246
Points

793
I have started to log my endurance Forza 7 Motorsport races, I figure someone might be interested in the idea of trying the same thing or go for a ride along reading about it. What started out as the 24 minutes of Daytona has now evolved into the 24 laps of Daytona. All in preparation for watching the actual 24 hours of Daytona my annual off-season Winter-time drive has begun.
Disclaimer: some of this will be nonsensical virtual entertainment as much of my writings are.
I've been working on this for a while so don't be alarmed. lol
Race #1: Saddled into an Aston Martin DB9 in the GT Class, Off we go, and already lap 2 the Konica Minolta #10 DPi is breathing down my neck to get around me, and I'm like fine go around bro but he's just hanging out back there, maybe I have pretty good giddy up down the straight idk, we end up making some light contact in the Bus Stop nothing to write home about. Tapping out at around 168 going into 1 in this car.
Already, one of the main takeaways I have of this track is just how flat it is once you get off the oval banking, I overshot turn 1 a handful of times lateral grip must be a huge deal irl.
Race #2: 2nd stint is at night, car is BMW #1 M8 GTE, all assists off except drive line, driving in ****pit view, upped the difficulty to unbeatable since I won by a largin margin on pro in the day time stint, changed the other cpu class LMP2 is all over me in this difficulty sitting in 5th place out of 12, 24 total cars on track, pace is more challenging for sure. Multiple off tracks trying to toggle telemetry to see lap time, too sleepy to turn off drive line making mistakes as is maybe next time. A big LMP2 off track get together in one of the back stretch chicanes, I drove thru it no big damage. Having to let a lot of LMP2 go by as they catch me before entry too much side by side. Tapping out at around 174 going into 1 in this car, about 6800 RPM in 5th gear.
I passed the #66 Ford GT to move into a podium spot 3rd place with 10 minutes left on the clock, hunting them down one at a time. The steering wheel is cut different on this car, it's like split bat wing compared to circular. I ran up on 1st and 2nd place without even realizing it with 3 minutes left, nosed into the #45 Flying Lizard Audi just a friendly nudge nose got excited whoopsy bud, backed off him for a bit but had too much speed, into 2nd I go but the clock shall run out with the #62 F458 GTC Ferrari taking home the trophy in this one. A good and fun run in this one, lot of action.
Race #3: Now into one of my favorite cars in the GT class the #51 Ferrari 458. Upped the stakes (unbeatable drive line off full 24 car GT field). Some big offs immediately going into 4 in the grass into the barrier light damage, big acclimation that drive line is very helpful in keeping on track, but it's time to take the training wheels off now I've driven this course enough and only one way to get used to it. All the way back to 20th out of 24. Took a couple laps to find some braking points, started using the green flag light marker up on the fence going into the chicane and down into 1. too conservative versus overshooting many of the corners. big oversteer spinning the tires in 2nd gear on drive off without traction control on but that's how I roll steering back into it, gaining aggressiveness getting comfortable again.
Tapping out at you guessed it 184 mph, I'm starting to eat them up down the straight in this car, clicking hard on the manual b button like a paddle shifter I'm feeling the speed.
Holding steady in 12th place by lap 8 running 1:49.7's leader is 1:49.1's 1:48.9's a little off the pace, and now a McLaren coming up on a 6 o'clock, could be in trouble here. Still have 1 quick stop to make, added that in. Changed to a 24 lap circuit race with full field of GT instead of split DPi multi-class, I think I like this better. And I get to see lap time.
Big off going into the chicane thru the grass nose first into tire barrier, surprisingly no damage it was gentle enough, had to double check to make sure simulation damage was on. Settling in, finding a good rhythm, still overshooting 3 5 and the bus stop coming in too hot sometimes, but hitting the marks pretty good floating it in on the down shift nice and straight nose pointed. Down to 1:48.5's now, one other Lambo is running 1:47.1's gulp how's that dude not in the lead?
Completely whiffed pit road exit access and pulled out into turn 1 lol whoops lucky nobody was out there, way behind in the pit cycle at lap 15 in 24th, we'll see where it pans out. Pushing hard now trying to catch this back string of cars and dang it overcooked the chicane once again trying to get too much in the grass but not tire barrier this time got it slowed down enough, lost big ground tho, bye bye top20, overdrove it. Got it down to 1:48.2's we're in the ballpark, oh it's ON computer I see you, night stint here I come.
Race #4 Alright computer it's you and me, I'm on it from the get this time, no laying back taking it easy, up to 3rd early this is good start... then and you already know wham overcooked the Bus Stop AGAIN, shall chalk this one up to account of darkness it is real hard to see over there and it threw me for a loop, damage unsure but lost big ground again back to 9th, a couple more offs ensue and before you know it we're mid-pack back to 12th, it's back it down play it conservative stay on track time by lap 5.
Had to stop pausing to take notes and pictures, was getting tough to find a rhythm, too many off-tracks in this one. Sitting 18th halfway thru at lap 12, but have already made my pit stop, meanwhile they're blasting fireworks. Best lap is 1:49.1 so far not bad compared to the field, but I have slowed down compared to the day stint, wrist hand arthritis fatigue may be setting in. Same car has not worked out in my favor.
Just happy to come home with a top20 in this one way too many adventures off track, finished 17th.
1:48.4 best lap leading Lambo 1:49.3 must have been super consistent, race winning speed is there, only other one faster was the Aston GT3 1:48.0, just need to cut down on the mistakes, the international horseshoe aka whales tail aka harmons saddle is giving me fits along with overshooting turn 1 and the chicane on multiple occasions.
Race #5: McLaren car lacks the giddy up, big bunch up in turn 1 lap 1 accordion, smacked the nose into the back of the Ferrari pretty hard, keep digging try and get some breathing room here, over did it into the quarter panel of the Mercedes in the middle of turn 7 got over zealous, no worries he repaid the favor in 8. Computer is eating my lunch on the oval banking, losing tons of ground, man this McLaren doesn't have the top end, already out of the top10 and sinking, this is gonna be a long race. Check the damage telemetry and eeek 1.2% engine damage guessing from the early Ferrari contact. Drove hard to bring it home 19th, but dang I wanted to see what that car could do, seems like it would be better on a track with less straightaway though.
Race #6: Less talking and more driving in this one, tired of getting my azz kicked by the computer. Chose the Mercedes #84 M-B SLS GT3. Big get together off the jump accordion in 1 and multiple offs in 3 in the grass, glad it wasn't me this time. Get run off the track by a BMW coming out of 7, computer is going ham. Late charge making up a ton of spots in the last few lap mostly on the banking, returning the favor leaning on the computer when I have to in the whale's tale. Best lap only 1:48.9 but consistency wins out grabbing 7th place for my first top10 on unbeatable difficulty. Total stint time 24 laps in 44 minutes 54 seconds. 183 mph top end, good giddy up with the Benz. I like it.
Race #7: Less talking and picture taking is working staying on track good consistency, but Woof the computer is fast, leader Lambo ran a 1:44.2! idk if that's all because of conditions but those are some wild swings in lap time almost 3 seconds faster. I also ran my fastest ever lap 1:47.2 and knocked about 50 seconds off my total time 44 minutes 04 seconds. It may be time to relegate myself back down to Pro difficulty, Unbeatable is proving to be unbeatable thus far and I haven't even sniffed a podium in 5 races.
It also may be time to turn on ABS and TCS to see if that makes a difference, I'm sliding around burning off the rear tires a lot and getting beat on entry, more grip would be nice.
There are 4 main problem areas on this track for me 1 3 5 and the Bus Stop Chicane. Lap times are varying wildly race to race with the conditions so I guess it's all relative to the competition.
Race #8: Dodge Viper SRT took me a minute to get used to the funky gearing all the way down into 1st gear in some turns, I tried ABS and TCS turned on for about 5 laps and it did not help at all, went off the track even more than before and hampered the horsepower I was trying to lay down at the same time. Held steady in 4th place for good beginning of the race, moved into 2nd and was reeling in the leader before my quick stop, came out in 8th and never got back close to the lead again too far away but was the fastest car on the track. A good 2 seconds faster best lap than the leader so idk how we didn't win that one but at least we've got good speed.
Race #9: Chevy C7.R Got to the lead early and stayed there in this one. Clean air is king. Kicking the crap out of the computer apparently the Sunset stint is my jam. I might lap these guy's, I didn't but it was close a couple came into pit but I won't count that since it wasn't an on track pass. Best lap 1:48.7 and I really like this car, good secure handle and speed to go with it.
Time to bump it up to Unbeatable difficulty again, this time without the quick stop.
Some pics of the action: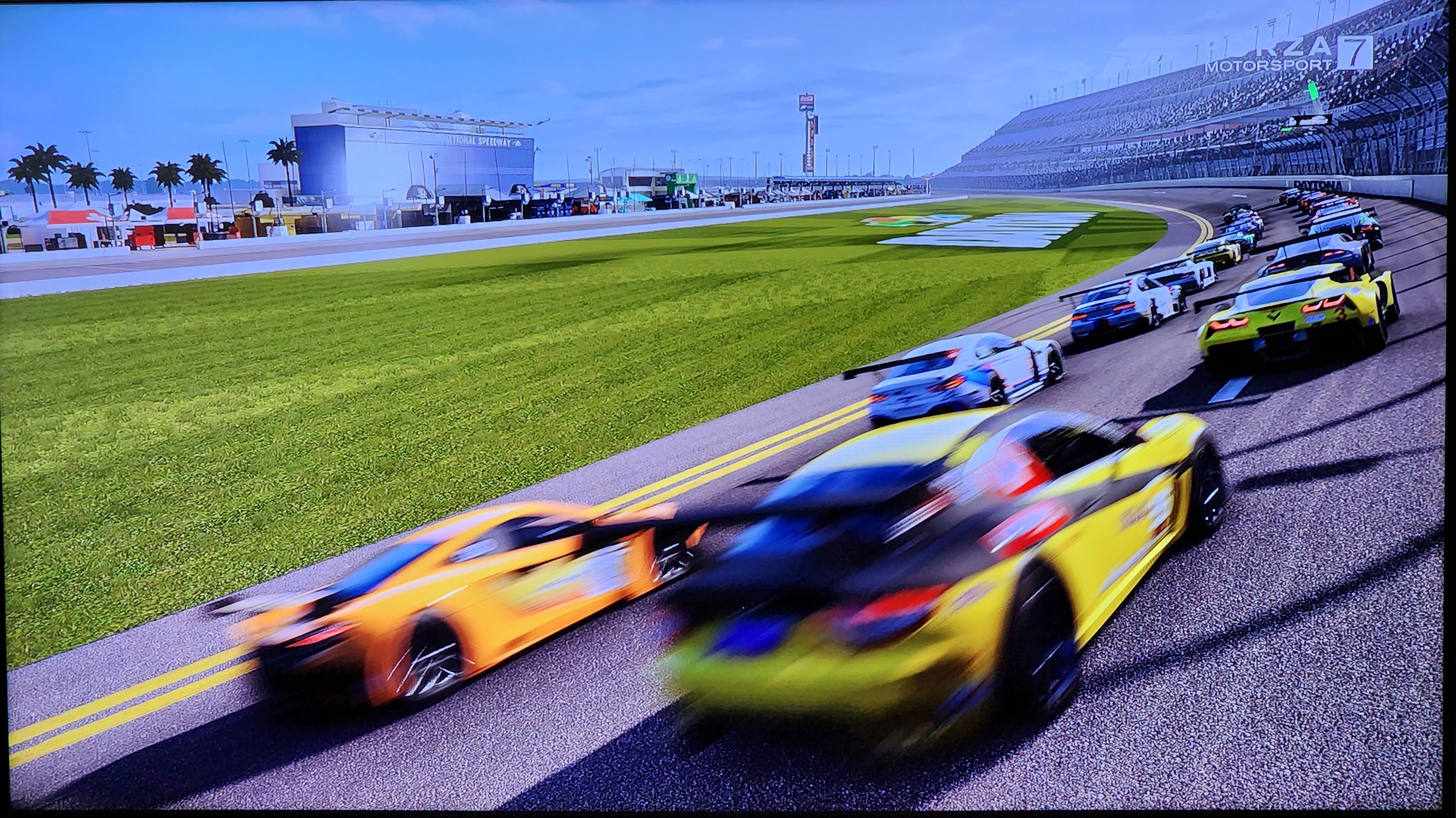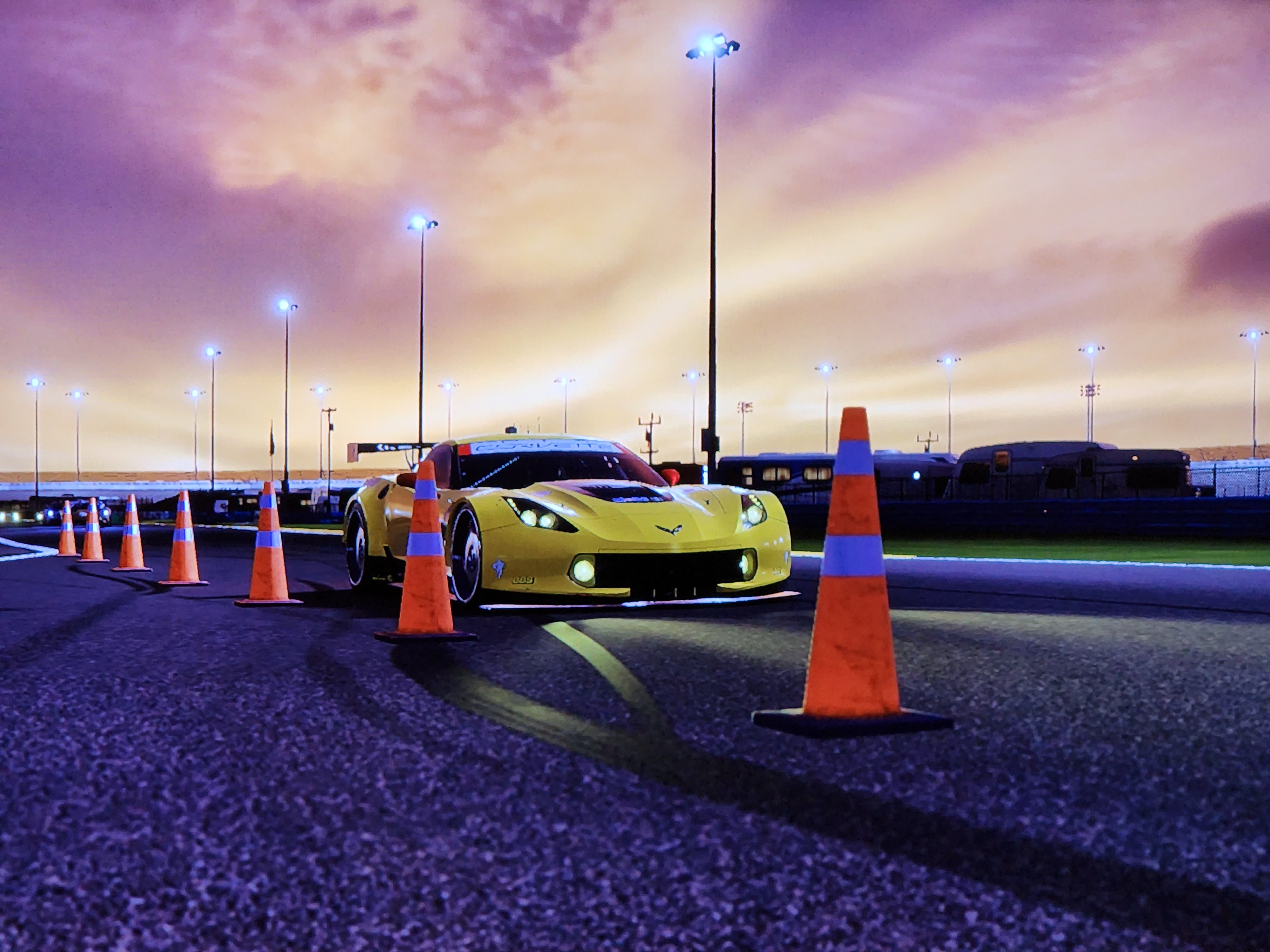 Recap:
Class Forza GT
Settings (Pro difficulty, ABS TCS STM off, Manual, Assist line on, 2 group multi-class with DPi)
Race #1 - 1st Day stint - 1st place - Aston Martin DBR9
Race #2 - 1st Night stint - 2nd place - BMW M8 GTE
Settings (Unbeatable difficulty, ABS TCS STM off, Manual, Assist line off, expanded field to 24 circuit race)
Race #3 - 2nd Day stint - 22nd place - Ferrari 458 Italia GTE - Best lap 1:48.2
Race #4 - 2nd Night stint - 17th place - Ferrari 458 Italia GTE - Best lap 1:48.4
Race #5 - 3rd Day stint - 19th place - 12C McLaren GT3 - Best lap Unknown Damage
Race #6 - 3rd Night stint - 7th place - Mercedes Benz AMG GT3 - Best lap 1:48.9
Race #7 - 4th Day stint - 14th place - Mercedes Benz AMG GT3 - Best lap 1:47.2
Settings (Pro difficulty " " tried ABS TCS on for 5 laps (no gracias))
Race #8 - 4th Night stint - 2nd place - Dodge Viper SRT - Best lap 1:51.8
Settings (Pro difficulty " " 24 laps no quick stop)
Race #9 - 5th Night stint - 1st place - Chevy Corvette C7.R - Best lap 1:48.7
I now venture over to the online Endurace Forza GT class races, Geeesh these guy's are fast (Mid-pack to Back-pack, main goal just to keep it clean and on track hit my marks). So far, Sebring (one of my favorite/best tracks), Hockenheimring in the Rain (tough), YAS Marina, Mugello Circuit (another favorite/best).
This is the Entertainment I like.