Joined

Mar 5, 2023
Messages

443
Points

93
INSPIRED BY A THREAD ON THIS FORUM~!: I'm just going to throw something out there that needs to be said. ARCA doesn't matter for driver development. ARCA doesn't develop meaningful, top tier Cup talent and has not successfully done so for a generation. This is hard for some people to accept,
but one look at the car counts for current ARCA races doesn't lie
.
Nor do lists of past champions
. Certainly it graduates drivers, but what kind of drivers does it graduate?
Well, I went ahead and looked at the Cup series in 2023 and pulled out all 16 competitors for the Chase. What did I find for their ARCA participation?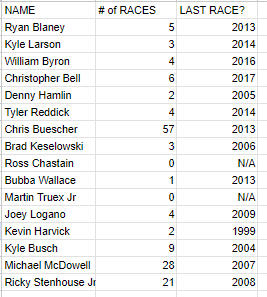 Only 3 of the 16 drivers had completed a full season's worth of races in the ARCA series, and only one of them (Buescher, who has had the longest route to relevance in Cup) won an ARCA title. There are no ARCA starts in the preceding 5 years, and half of the list has either never made a start in ARCA or last competed in the series ≥15 years ago. Ricky Stenhouse being on the list does make me LOL thinking about how his ARCA title bid ended.
In retrospect, ARCA (and Busch North and Winston West) were at their healthiest when the car regulations permitted cars which would be legal in other forms of NASCAR competition. That is long dead, and the cars now serve only the purpose of racing in 10K to win pavement oval events where the cost to roll off the trailer is significantly higher than what can be won. Everything that ARCA can "teach" is learnable either in late model racing or in the Truck series, and one look at just about this entire list of drivers to see their starts in either of those two forms of stock car racing would tell you a lot about how the Cup drivers themselves perceive the value of ARCA now. Even increasing purses and merging the rules with Xfinity wouldn't fix all the problems it has, since ARCA teams would still be hamstrung by the number of events taking place. I think it's time to put a fork in it and let the ASA/CARS/etc tours just take over it's position in midwestern racing.