Joined

Apr 21, 2016
Messages

4,002
Points

493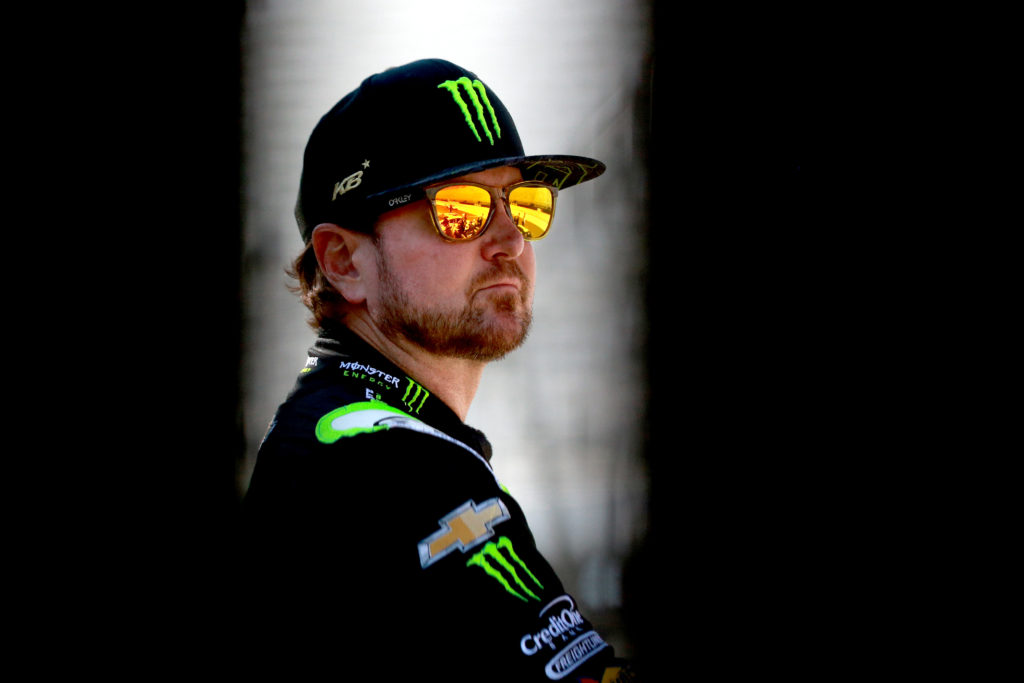 When Kurt Busch split with Stewart-Haas Racing a year ago and signed with Chip Ganassi's two car team, there were two common sentiments expressed here and elsewhere in social media... First, it was a downward move, not a lateral one, as SHR was a top tier outfit at the top of its game, while CGR was considerably less competitive. Second, many people expressed confidence that Kurt would be a positive influence on teammate Kyle Larson, who has a lot of natural talent but suffered from lack of a winning team environment.
So how has all that worked out? Jordan Bianchi has posted a fascinating piece in The Athletic (
link for subscribers
). Includes an update on the status for 2020... both sides expect Busch to continue in 2020... Ganassi said "It's all but imminent."
As Kurt Busch embraced a leadership role, Chip Ganassi Racing gained speed and results

By Jordan Bianchi for

The Athletic

-- Oct 1, 2019

Kyle Larson had heard about Kurt Busch's reputation. So had team owner Chip Ganassi. So it gave them some pause even as Chip Ganassi Racing pursued Busch last fall to join its organization as Larson's teammate in the NASCAR Cup Series.

Despite what others may have said, Ganassi forged ahead and signed Busch to a one-year contract to replace the retiring Jamie McMurray. CGR represents Busch's sixth team since entering Cup in 2000, and while his career has had some incredible highs — a championship in 2004, 31 race wins, even a sixth-place finish in the 2014 Indianapolis 500 — that attest to his talent, there were also several lows — ugly departures from Roush Fenway Racing (2005) and Team Penske (2011), NASCAR twice suspending him — that have pockmarked his career.

"There's a lot of guys who are fast," Ganassi said. "There are fewer guys that can win races. And there are even fewer guys that have won championships. And in the opposite order when one of those guys becomes available you have to look at them. So when a NASCAR champion becomes available you say, 'Wait a minute, this guy is winning races, he's available, what's up here?' You gotta look at that."

Ganassi admits he didn't expect to see the leadership qualities Busch brought to the team. Paired with his driving this season, Busch's influence helped elevate CGR's performance across the board this season, according to Ganassi, Larson and Busch's crew chief, Matt McCall.

"He's not as crazy as I thought he might be," Larson said, laughing. "He's just a really good guy, I mean a lot more normal than I initially thought of him because I didn't really know him that well. We've all heard the stories. He's really smart and I can learn a lot off of him just listening to how he communicates with his team, how he treats people. I've liked working with him."

Said Ganassi: "If you were to say there was not some hesitation on our part from some of the things we've heard about him and his past, I'd be lying to you. But I will tell you that was quickly dissipated once he got on board. The guy has been nothing but a spark of a fire."

Busch's leadership was on full display almost immediately upon signing with CGR last December. Standing before his new team he delivered the exact kind of message that you'd expect from Busch: candid and matter of fact, spoken with the confidence of someone who's been in this position before.

Busch told those in attendance at Ganassi's Concord, N.C., NASCAR headquarters that the No. 1 team he was joining was going to win a Cup race in 2019. There was no couching his statement, no use of the word "if." Listening to their new driver speak brought a level of confidence that hadn't been felt within the team in some time.

"He talked about winning a lot, which the mentality part is a big thing in our sport," McCall said. "If you don't talk about winning, you're never going to win.

"The whole group wanted to hear that. Coming from a guy that's won a championship and lots of races it's believable. Kurt is really good at pumping everyone up."

Busch delivered when he won at Kentucky Motor Speedway in July. That victory was the first in a points race for the No. 1 CGR team since October 2013, when McMurray won at Talladega. (McMurray also won the non-points All-Star Race in 2014.)

For a driver whose up-and-down career trajectory could easily be used as a layout for a roller coaster, being viewed as a leader is an unusual prism. Yet, it's the role Busch finds himself cast in. And enjoying.

"I feel like my years of experience can add to answering some questions," Busch said. "I'm happy to do my part.

"I am geared around winning and I don't like to play 'if.' It's a matter of 'when' we're going to win and we did."

Ganassi, Larson and McCall offer Busch considerable praise for helping CGR rebound from what it considered a substandard 2018 season, in which only Larson qualified for the playoffs and CGR's cars didn't have the same speed as consistently shown this season. Currently Larson and Busch rank fifth and ninth, respectively, in David Smith Central Speed Rankings. Last year, the No. 1 ranked 16th, according to Smith. McMurray finished the 2018 season ranked 20th in points and out of the playoffs. McMurray led 44 laps combined from 2015-2018; Busch led 188 laps alone in 2019.

"He has helped us with everything," Larson said. "He has so much experience that he's been able to bring to the team, knowing what areas to work on, and communicating with Matt McCall on things to make their car better. We can learn off of that as well. There isn't just one thing, he's helped in a lot of areas."

McCall believes Busch's ability to detail what is going on with the car and what areas need improvement transfers across the organization. Larson has taken to studying Busch's notes on what the CGR cars are doing, be it in practice, qualifying or the race, and credits Busch for helping him become a driver who can better communicate with his own crew chief.

⁠"For me personally, he's really opened up my eyes to paying attention on how he communicates with his team on how his car is handling," Larson said. "I feel like in the past I probably didn't give my team enough time to get my car better before I start adjusting what I'm doing. Where lately I've felt like I really communicate (with my) working to make the car better longer before I change what I'm doing to try and fix things. Kurt is constantly trying to make the car better."

McCall also points to something else Busch does.

"Often to a fault he takes a lot of the blame for stuff that even isn't remotely his fault," McCall said. "He carries a lot on his shoulders. But at the same time, he expects me and the team to do the same thing. The biggest thing is that he leads by example.

"He's got ideas all the time; he's thinking of ways to improve 24/7. There's not just one thing, it's a lot of little stuff and details that sometimes you overlook or forgot about."

The leadership role Busch has taken has extended beyond CGR. He's taken steps to embrace his role as one of the garage's elder statesmen, someone whose voice can impact NASCAR going forward. Busch's 677 Cup starts is most among active full-time drivers; Kevin Harvick is second with 675 starts.

Busch credits recent changes within NASCAR's leadership structure for opening the lines of communication to share his thoughts on the direction top-level stock car racing is headed. And it's not just speaking up, but feeling that what he's saying is then being utilized in a constructive manner.

A once contentious relationship with NASCAR has thawed considerably since larger roles were taken in the past year by Jim France, who owns 50 percent of NASCAR (which was founded by his father Bill France Sr. in 1948) and NASCAR president Steve Phelps.

"For me, I think Jim France is the man," Busch said. "He came to my motor home the night before the Daytona 500. I was just about ready to call it a day; it was about 9:00 p.m. and there was a knock on my door. It's Jim France. I'm like, 'Sir, do you want to come on in?' He's goes, 'No, no, no, I just wanted to shake your hand and say, 'Thank you,' for what you're doing with the (military) veterans and the vettix.org program.' He goes, 'That's what you and I discussed last October, wasn't it?' And I said, 'Yes, sir. It's about putting butts in the seats and also giving back at the same time and creating that energy and that vibe and that feel for a program.'

"The drivers are being heard, but it's not at the rate that I think we'd like. But, the owners are very concerned about budget and that slows down some of the progress."

How much longer Busch will continue to race is a question that's been frequently asked since he signed with CGR. The 41-year-old is at the age when retirement becomes an enticing option, with McMurray (age 42 when he retired), Dale Earnhardt Jr. (42), Carl Edwards (37), Jeff Gordon (43), Matt Kenseth and Tony Stewart all having made a similar choice since 2015.

Initially, Busch acknowledged he didn't know how long he would be with the organization, ambiguity brought about by being recently married, wanting to compete in other motorsports disciplines, potential broadcasting opportunities or a team management position. Sports car racing is one avenue that intrigues him, perhaps in either the Rolex 24 at Daytona or the 24 Hours of Le Mans, both races in which CGR has fields entries in recent years. The team's 2020 sports car options are still up in the air now that the factory program with Ford has ended.

"I'm 41 years old. There's still more racing to do," Busch said. "There's still more of an impact that I know I can make, but there's still more fun to be had with all of this. I don't know where things sit just yet."

Busch's future plans have been less ambiguous as the season has progressed. Competitive and with a team where he feels appreciated (something he didn't always feel at previous employer Stewart-Haas Racing), he and Ganassi are negotiating an extension and the consensus from both sides is that Busch will continue driving the No. 1 car in 2020.

"I want him back. We want him back," Ganassi said. "It's all but imminent."

One goal that Busch laid out before the season was a deep playoff run and a realistic chance to win a second championship. Those hopes were dashed with a crushing three-race performance in Round 1 that saw Busch record finishes of 39th, 18th and 20th, knocking him out the playoffs far quicker than he, McCall or anyone with the the team wanted.

"We didn't execute. We didn't have lap time," Busch said. "We've got to regroup in these seven races to make something better out of our season. … We were a top-10 team all year. Just the wheels came off here. It was a nightmare."

What happened was a confluence of underperformance, bad luck and self-inflicted mistakes.

During the playoff opener at Las Vegas Motor Speedway, Busch made contact with a competitor that caused body damage in the wheel well area, leading to a punctured tire and subsequent crash. The next week after making a scheduled green-flag pit stop at Richmond Raceway, an untimely caution flag trapped him multiple laps down. And after struggling in Roval qualifying, on Sunday at Charlotte Motor Speedway, Busch rear-ended Jimmie Johnson on a restart and caused considerable damage to his car.

Just like that, a promising season with great potential was gone.

Afterward, McCall stood in the garage with a faraway look as he waited to help load the battered No. 1 car onto the hauler. Although the season offered plenty of highs — including McCall's first win as a crew chief — this was not how he envisioned the season ending when Busch spoke to the team last December.

"It's pretty disappointing that we had our worst three races of the year to start the playoffs," McCall said. "It just sucks. You're only as good as your last race, that's the reality of this sport. That's the way I've always looked at racing my whole life. And we suck right now, that's the bottom line.

"We wanted to race for a championship and now we don't get to."