Joined

Apr 21, 2016
Messages

3,706
Points

493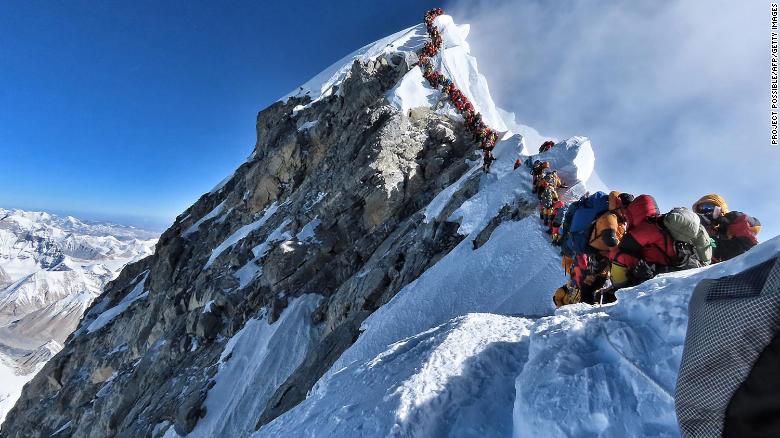 From the "Picture Is Worth 1,000 Words" Department...
Hoards of climbers wait in line to summit Mount Everest, a result of over-crowding during the May climbing season. The traffic jams often add many hours to the journey to the summit and back down. The delays to get up-and-down add to the dangers of struggling to survive in the "death zone" above 27,000 feet. Eleven climbers perished this year. But the permit fees paid by the climbers are an important source of revenue to Nepal, creating disincentive to limit the number of permits issued or to vet the qualifications of the climbers. Two interesting articles, from The Washington Post and CNN.
How Mount Everest's popularity turned fatal
​
https://www.washingtonpost.com/world/how-mount-everests-popularity-turned-fatal/2019/05/27/eea7d2b4-806c-11e9-9a67-a687ca99fb3d_story.html?noredirect=on&utm_term=.6087c365f422
KATHMANDU, Nepal — Chatur Tamang was on his way to the roof of the world when he hit a traffic jam.

Ahead of him, on the final ascent to Mount Everest, he saw more than 100 people bunched together on the narrow ridge that leads to the summit — a place so high that it is known as the "death zone," where the human body has trouble functioning.

Some of those descending from the summit pleaded desperately with those ascending to clear a way for them to pass since they had run out of oxygen. "That sent chills down my spine," said Tamang, 45, a mountaineering guide who lives in Russia. He fears that if no action is taken, the crowds next year could be worse, with potentially fatal consequences.

At least 11 people died trying to reach the summit of the world's tallest mountain this year, the deadliest climbing season for the peak in four years. One factor contributing to this year's toll appears to have been crowding as scores of people attempted to ascend in a short window of good weather, producing delays that extended the time climbers spent at deadly altitudes....
Mount Everest death toll rises to 11 amid
overcrowding concerns​
​
https://www.cnn.com/2019/05/27/asia/mount-everest-deaths-intl/index.html